Biomass Pellet Fired Steam Generator
Biomass Steam Generator
Model: LSG (Biomass) Series
Steam Capacity: LSG (Biomass) 0.05-1T/H
Steam Pressure: 0.4/0.7Mpa (Optional according to demand)
Fuel:Biomass Particle
Applications: Clothing Washing And Ironing, Biochemical, Food And Beverage Steam Cleaning, Building Material Maintenance, Plastic Foam, Wood Processing, etc.
Product Introduction
Product Description
The LSG series vertical small pallet steam boiler is a small volume boiler with internally designed circulating water pipes. Smooth water circulation, scientific and reasonable layout of heating area, fast heat conduction , fast steam pressure rise, and movable combustion grate ,flexible and easy to control. Suitable for the direct combustion of various shapes biomass , strong fuel adaptability. It adopts dome combustion chamber and horizontal circulation water pipes, increases the heat absorption area and has high thermal efficiency. No fan is needed for natural ventilation operation, simple operation.
Product Advantages
1. Quick steam generation
Steam is quickly generated (3-5 minutes) after the boiler is started, and it reaches high temperature and pressure soon.
2. High thermal efficiency
(1)Vertical water pipe membrane wall structure,increase heat absorption area,reduce heat loss,save fuel.
(2)Equipped with energy saver, improve thermal efficiency.
3. High-end automatic control system
National standard electric control components and world brand burner , can realize the automatic operation stablely.
4. High security
(1)Very small internal water capacity, does not need annual inspection
(2)Equipped with safety interlock device, such as water shortage, overpressure, overtemperature, air leakage, motor overload and other safety protection functions.
5. High reliability
(1)The whole equipment is manufactured according to the standard of large steam boiler.
(2)Safety protection devices: pressure controller, pressure transmitter, safety valve, pressure gauge, water level automatic control, etc.
6. Exquisite structure
Unique appearance design, small and practical.
Product Details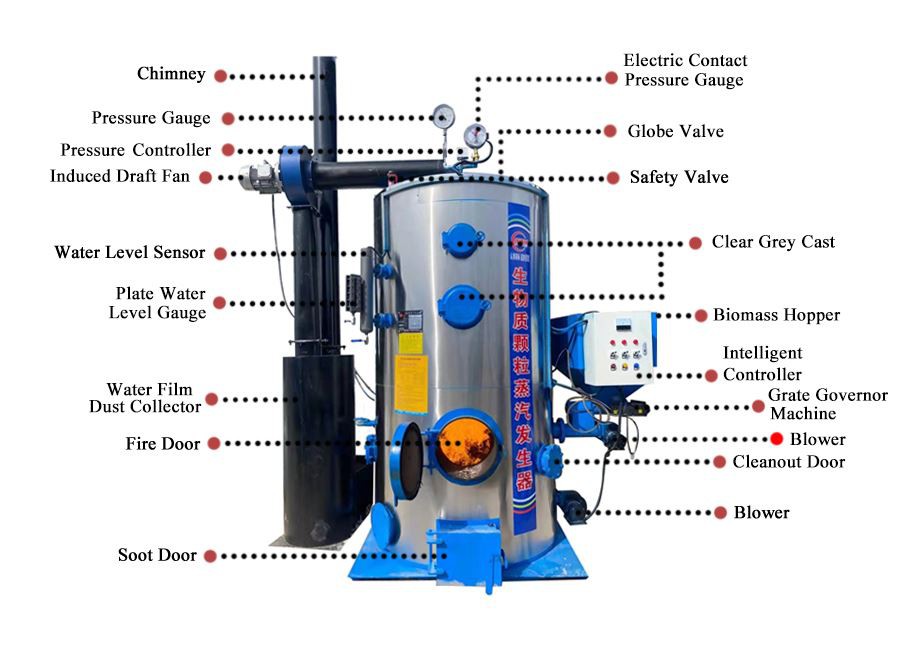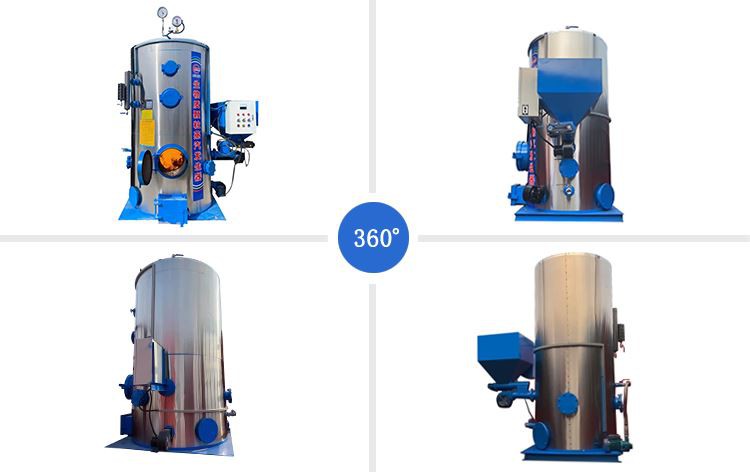 Product Specification
Model

Rated evaporation(kg/h)

Rated

pressure

(Mpa)

Steam

Temperatur

(℃)

Thermal

efficiency

(%)

Fuel

Consumption

(kg/h)

Dimension

L×W×H

(m)

Weight

(kg)

YJLSG0.2

200

0.09/0.4/0.7

110/150/170

≥93

30

0.9×0.9×2.1

1200

YJLSG0.3

300

0.09/0.4/0.7

110/150/170

≥93

45

1×1×2.4

1600

YJLSG0.5

500

0.09/0.4/0.7

110/150/170

≥93

80

1.2×1.2×2.6

2100

YJLSG0.7

700

0.09/0.4/0.7

110/150/170

≥93

120

1.5×1.5×2.8

3100

YJLSG1

1000

0.09/0.4/0.7

110/150/170

≥93

150

1.6×1.6×2.9

3800
Certificate and Qualification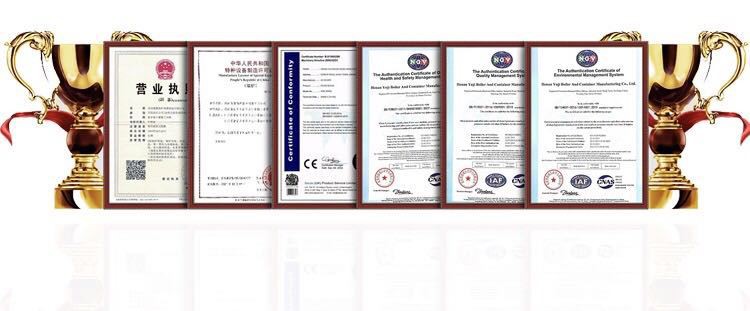 OEM Service
1. Boiler quality guarantee
We have our own factory, we can guarantee the boiler production efficiency and quality!
2. Feedback on the production progress in real time.
We will send you pictures and videos of the production of boilers and auxiliary machine parts so that you can better understand the production process.
3. Reliable Transportation
Yuji Boiler has been cooperating with experienced freight forwarding companies for many years to ensure that the products reach their destination safe and sound. We have an overseas installation team to provide installation, commissioning and regular door-to-door maintenance.
4. Strict and complete inspection system
We have complete X-ray inspection, water pressure inspection, leak test and other systems to ensure 100% throughput before product delivery.
Hot Tags: biomass pellet fired steam generator, China, manufacturers, suppliers, factory, customized, price,
16mm coal fired boiler
,
steam generation from biomass
,
coal and biomass thermail oil boiler
,
warmflow boilers
,
200kg Electric Steam Boiler Generator
,
Chain Grate steam Boiler