Lox/Lin/Lar/LNG/LPG Cryogenic Storage Gas Tank
Cryogenic Storage Tank
Volume: 5m³ ~ 200m³
Working Pressure:0.2Mpa ~ 3.5Mpa
Working Medium:Liquid oxygen/Nitrogen/Natural gas /Carbon Dioxide/Argon gas
Placement Way:Vertical And Horizontal

Product Introduction
Product Description
1.Cryogenic liquid storage tanks for double wall, vertical(horizontal)structure, with a compact, low issuance date, small footprint, centralized control, safe, reliable, easy operation and maintenance.
2.The low-temperature liquid storage tank is a vacuum powder insulation type, and the structure is composed of a content device and an outer container, which can be divided into two types: vertical and horizontal. According to the contents of containing medium, outer container materials according to the regions of the user choose different Q235 - B or Q345R.
Product Specification

Cryogenic Storage Tank

Placement Way

Vertical And Horizontal

Adiabatic Way

Vacuum Powder Insulation

Volume

5m³ ~ 200m³

Working Pressure

0.2Mpa ~ 3.5Mpa

Working Medium

Liquid oxygen/Nitrogen/Natural gas

/Carbon Dioxide/Argon gas

Material

Carbon steelQ345R or Stainless steel(304/316)

The above specification data just for reference, for more specification, it is can be customized according to requirement.
Certificate and Qualification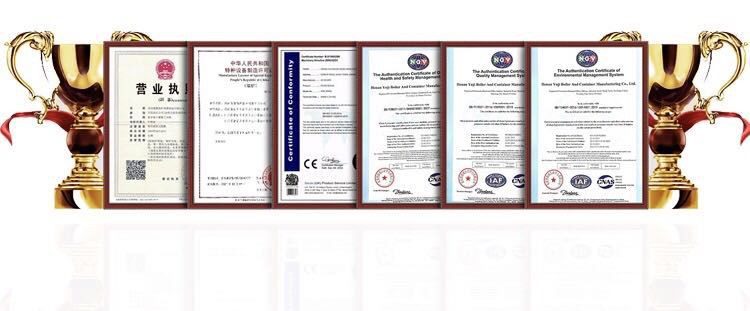 OEM Service
1. Boiler quality guarantee: We have our own factory, we can guarantee the boiler production efficiency and quality!
2. Feedback on the production progress in real time. We will send you pictures and videos of the production of Storage tank so that you can better understand the production process.
3. Reliable Transportation: Yuji Boiler has been cooperating with experienced freight forwarding companies for many years to ensure that the products reach their destination safe and sound. We have an overseas installation team to provide installation, commissioning and regular door-to-door maintenance.
4. Strict and complete inspection system: We have complete X-ray inspection, water pressure inspection, leak test and other systems to ensure 100% throughput before product delivery.
Hot Tags: lox/lin/lar/lng/lpg cryogenic storage gas tank, China, manufacturers, suppliers, factory, customized, price,
high efficiency Gas Fired Boiler
,
wood boiler
,
steam generator for a steaming chamber
,
Assembled thermal oil boiler
,
hot water boiler electric
,
Fuel Gas Hot Water Boiler