About Us
Henan Yuji Boiler Ship Co., Ltd.The General Administration of Quality Supervision, Control and Quarantine of the People's Republic of China has approved a specialized boiler and pressure vessel manufacturing facility. The company is certified according to the international quality system ISO 9001 and receives EU CE certificates and other international certificates.
We guarantee the quality of our products with our life. Quality assurance systems have been established, including production design, technology management, material experiment, welding control, inspection and audit, measurement and production management. The technology center maintains business relationships with many renowned universities in China, leads the industry with innovation and new technology, and builds up a strong research and development system.
The main products are liquid gas gas boilers, coal fired grate boilers, biomass grate boilers, thermal oil heater, electric heating boiler, etc. Yuji boiler is exported to other countries including Uzbekistan, Pakistan, Vietnam, Indonesia, Cambodia, Myanmar , Russia, Mongolia, Switzerland, etc.
Our product
Oil gas boiler, biomass boiler, thermal oil boiler, coal boiler, steam generator, pressure vessel, electric boiler.
Product application
Chemical Factory, Textile Factory, Food & Beverage Manufacturing, Garment Manufacturing, Paper Mill, Printing & Dyeing Mill, Cement Mill, Fertilizer Mill, Feed Mills, Rubber Mill, Schools, Hotel, Sauna Center, Swimming Pool, Hospital, Hotel, etc. D.
Our certificate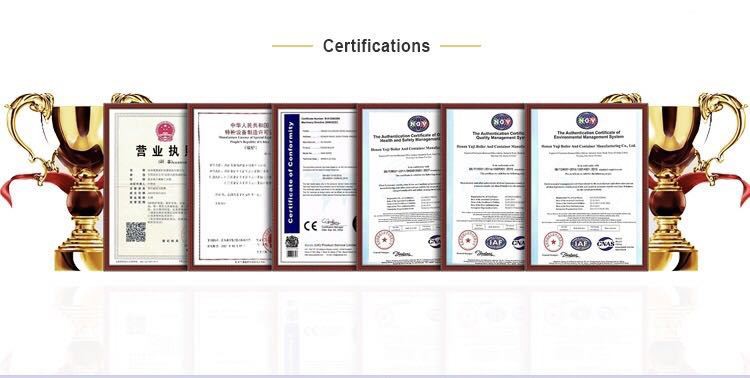 Our service
Yuji Boiler has a professional domestic and overseas personnel service team to provide you with a full range of pre-sale, sale, after-sale and return visit services. Quality service has always followed us, and Yuji Boiler warms every corner of the world.
Presale:
1. 24-hour service, multi-channel contact. Recommend the customer the most suitable boiler based on the customer's needs information & # 39, provide related products and technical data such as parameters, drawings, boiler room layout, etc. We will provide you with professional advice and purchase advice to avoid suffering from buying unsuitable losses of boilers.
2. If you come to our factory, we will provide you with a free airport transfer to help you book your hotel, etc., to ensure you have a perfect trip.
Sales service:
1. Boiler quality guarantee: We have our own factory, we can guarantee the boiler production efficiency and quality!
2. Feedback on the production progress in real time. We will send you pictures and videos of the production of boilers and auxiliary machine parts so that you can better understand the production process.
3. Reliable Transportation: Yuji Boiler has been cooperating with experienced freight forwarding companies for many years to ensure that the products reach their destination safe and sound. We have an overseas installation team to provide installation, commissioning and regular door-to-door maintenance.
4. Strict and complete inspection system: We have complete X-ray inspection, water pressure inspection, leak test and other systems to ensure 100% throughput before product delivery.
After sale:
1. We have professional boiler instructors and overseas engineering teams to provide boiler operator training, installation and maintenance services to solve problems in the boiler operation in a timely manner.
2. 24 months warranty period, if the boiler body or accessories are damaged during normal operation, we provide free maintenance services, and we only need to pay for the maintenance personnel.
3. A 24-hour service hotline providing professional billing services such as boat booking, product verification, merchant invoice, packing slip, insurance policy, and so on.
Return visit:
We will regularly visit the use of the boiler you purchased and provide solutions to feedback problems to ensure a timely, efficient and satisfactory return visit service.